The Bucket List, Vecka 10, 2015
Ny vecka, nya fantastiska släpp. Har egentligen inga fler kommentarer än så.
Nu kör vi.
---
C. Duncan "Say"(singel)
Multiinstrumentalisten Chris Duncan är på gång med sitt debutalbum, och "Say" är andra singeln som släpps från det. Atmosfärisk, själfull och vacker. Lika vackert som dess skivomslag, ett flygfoto taget över ett kvarter i hemstaden Glasgow.
The Wombats "Give Me A Try"(från kommande albumet Glitterbug)
Jag vet att jag hade med förra singeln på en lista för några veckor sedan. Men Liverpooltrion fortsätter att spotta ur sig singlar med glödande refränger, så vad gör man?
Blipp! "Dina Andetag"(från EKO)
Få gruppnamn säger så mycket om musiken som Dalarnas syntare Blipp!. Förpackningen med melodifestivalsmelodier och Page-produktion är av ett slag man sällan springer på.
MotoBunny "Let's Go Out"(singel)
"Iggy-Pop-meets-Icona-Pop", så beskriver de sig själva, Los Angeles-kvartetten med veckans bästa gå-på-lokal-anthem.
Jonathan Wilson "Slide By"(från Slide By EP)
Spelades in live i studion under tiden senaste albumet Fanfare gjordes, släpptes sedan i slutet av förra året som en 5-spårs EP inför Record Store Day. Finns nu även för streaming.
Cable Street Collective "Wasted Hours"(från The Best Of Times)
I höstas turnerade bandet i Malawi, vilket ger en vink om de afrikanska influenserna i deras glada karnevalspop. Tänk Paul Simons "You Can Call Me Al" så är du nära.
Damon And Naomi "A Shining Dream"(från Fortune)
När Dean Wareham gick sin egen väg och Galaxie 500 upplöstes 1991 fortsatte trummisen Damon Krukowski och basisten Naomi Yang som duon Damon And Naomi. Fyra år efter senaste albumet False Beats And True Hearts är de äntligen tillbaka.
Tongues. "Colour In The Dark"(singel)
Producenten bakom electronicaakten Tongues. är maskerad och anonym. Precis allt vad den kusligt förföljande "Colour In The Dark" inte är.
Scarlet Soho "In Cold Blood"(från In Cold Blood)
Syntpop som den lät i begynnelsen.
Rathbone "Wanna Be You"(från Soft)
Powerpop med Lindsey Buckingham-feeling.
Eternal Death "Hole"(från Eternal Death)
Allt Johan Angergård har vidrört har varit meningsfullt: Club 8, Acid House Kings, Labrador Records, och nu Eternal Death. Singeln "Bullet" var en iskall syntklassiker i vardande, och nu när Angergård och Elin Berlin har släppt sitt första album som Eternal Death är det bara att börja gräva efter fler.
Ghostface Killah and BADBADNOTGOOD "Mind Playing Tricks"(från Sour Soul)
På förra albumet Twelve Reasons To Die gav Killah min favoritproducent Adrian Younge fritt fram att rama in allt med 70-talsfunk, spionthrillers och Blaxploitation. Den här gången är det kanadensiska instrumentaljazztrion BADBADNOTGOOD som står för musiken, men även de lyckas få det att låta lika coolt.
They Might Be Giants "Answer"(singel…eller vad man nu ska kalla det…)
De två John:arna Flansburgh och Linnell är lika träffsäkra som vanligt med melodierna, och Dial-A-Song är mer aktiv än någonsin. Popsångerna bara sprutar ut.
Lilly Hiatt "Get This Right"(från Royal Blue)
Man behöver inte mycket betänketid för att gissa vem som är hennes pappa. Soundet på "Get This Right" har hon dock från Liz Phair, även om hon lutar sig mest mot country på sitt andra album Royal Blue.
Brian Wilson, Al Jardine & David Marks "The Right Time"(från kommande albumet No Pier Pressure)
När Brian Wilson skrev sångerna till nya albumet hade han The Beach Boys i åtanke, men det blev inget av med någon återförening, så han ger ut det i eget namn. She And Him(Deschanel/Ward) gästar liksom Kacey Musgraves, men även f.d. strandpojkar som Blondie Chaplin, Al Jardine och David Marks. Jardine är den som sjunger lead på "The Right Time", och harmonierna sitter lika perfekta som förr.
Priest "The Game"(singel)
Tidigare kända som syntpopduon X priest X, nu har Madeline Priest och David Kazyk bestämt sig för att korta ner namnet till bara Priest.
Tuxedo "R U Ready"(från Tuxedo)
Tuxedo består av inga mindre än Mayer Hawthorne och Jake One, förenade av en gemensam kärlek till tidiga 80-talets funkdisco och grupper som Zapp, Kool & The Gang, The Jacksons m.fl. Låtarna som utgör deras första album tillsammans har legat och grott i flera år, och framgångarna för Daft Punk med "Get Lucky" blev den spark i häcken de behövde för att få ut dem.
Joanna Gruesome "Last Year"(från kommande albumet Peanut Butter)
Rykande noisepop som släpper av lite på gapandet en minut in i låten. Älskar de dissonanta tonerna som uppstår vid 1.05 och sedan återkommer titt som tätt!
The Zoltars "Sincere"(från The Zoltars)
Skönt att höra att det fortfarande går att göra psykedelisk 60-talspop á la 13th Floor Elevators.
Estelle "Make Her Say(Beat It Up)"(från True Romance)
Ni minns hennes hit "American Boy" för några år sedan. Brittiska R&B-stjärnan är intressantare nu än då. Och snuskigare.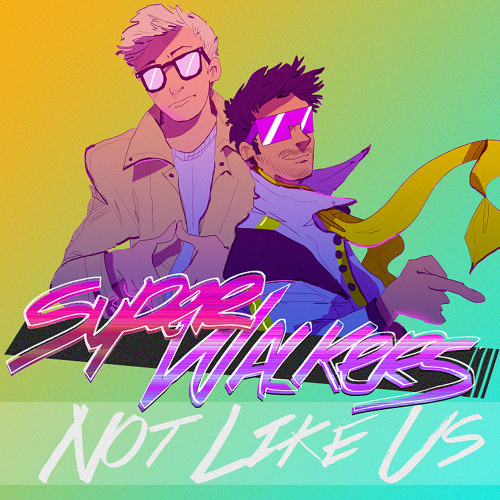 Superwalkers "Not Like Us"(singel)
Den som saknar nytt från Empire Of The Sun kan sluta deppa. Och glädja sig med att Sverige har en duo som axlar manteln.
Trust Fund "Cut Me Out"(från No One's Coming For Us)
Ellis Jones från Bristol har en osviklig förmåga att koka soppa på en spik. Hemmainspelningar blir till melodispäckad lo-fi-pop.
---
Följande låtar bör heller inte, under några omständigheter, missas:
Leon Bridges "Lisa Sawyer"(singel)
Ded Rabbit "Better On The Day"(från Wake Up In A Dream)
Meek Mill feat. Pusha T, Rick Ross & Wale "The Deep End"(från Maybach Team)
The Mountain Goats "Heel Turn 2″(från kommande albumet Beat The Champ)
Chromatics "I Can Never Be Myself When You're Around"(från kommande albumet Dear Tommy)
Everything Everything "Distant Past"(från kommande albumet Get To Heaven)
Absofacto "Dissolve"(singel)
Hardcore Superstar "Touch The Sky"(från kommande albumet HCSS)
Jessie Baylin "To Hell And Back"(från kommande albumet Dark Place)
Major Lazer feat. MØ & DJ Snake "Pay No Mind"(singel)
Sunset Sons "Medicine"(från The Fall EP)
Antimatter People "No Need To Be So Small"(singel)
Nadine Shah "Fool"(från kommande albumet Fast Food)
Small Houses feat. Samantha Crain "Seventeen In Roselore"(från Still Talk; Second City)
Waxahatchee "Under A Rock"(från kommande albumet Ivy Tripp)
Kelela "A Message"(från Hallucinogen EP)
William Elliot Whitmore "Healing To Do"(från kommande albumet Radium Death)
Ghostpoet feat. Lucy Rose "Sorry My Love, It's You Not Me"(från Shedding Skin)
Kendrick Lamar "The Blacker The Berry"(singel)
Passion Pit "Lifted Up(1985)"(från kommande albumet Kindred)
Roisin Murphy "Gone Fishing"(från kommande albumet Hairless Toys)
Wyldest "Cruel Dusk"(singel)
Calexico "Falling From The Sky"(från kommande albumet Edge Of The Sun)
Lo-Fi-Fnk feat. Duvchi "U Don't Feel The Same"(singel)
Kate Miller-Heidke feat. Andy Burrows "Share Your Air"(från O Vertigo)
Mystery Skulls feat. Nile Rodgers and Brandy "Magic"(singel)
Of Montreal "Virgilian Lots"(från Aureate Gloom)
Public Service Broadcasting "Gagarin"(från The Race For Space)
Coleman Hell "2 Heads"(singel)
Flor "Heart"(från Sounds EP)
Jenny Wilson "I Wanna Have It All"(singel)
Madeon feat. Passion Pit "Pay No Mind"(från kommande albumet Adventure)
Jenny Hval "That Battle Is Over"(från kommande albumet Apocalypse, Girl)
Toro Y Moi "Buffalo"(från kommande albumet What For?)
George Fitzgerald feat. Boxed In "Full Circle"(från kommande albumet Fading Love)
Speedy Ortiz "The Graduates"(från kommande albumet Foil Deer)
Charles Howl "Going Down With A Hi"(från kommande albuet Sir Vices)
Meadowlark "Eyes Wide"(från kommande EP:n Dual)
The Solicitors "(You Should See The) Look On Your Face"(från Blank Check)
Patrick Watson "Love Songs For Robots"(från kommande albumet Love Songs For Robots)
Action Bronson feat. Chance The Rapper "Baby Blue"(från kommande albumet Mr. Wonderful)
Lust For Youth "Vibrant Brother"(från Perfect View)
The Preatures "Somebody's Talking"(från Blue Planet Eyes)
Surfer Blood "Dorian"(från kommande albumet 1000 Palms)
Trail Of Feathers "Love And Theft"(från Love And Theft EP)
Raekwon feat. French Montana & Busta Rhymes "Wall To Wall"(singel)
Cheerleader "The Sunshine Of Your Youth"(singel)
Amy Speace "Raincoat"(från That Kind Of Girl)
Buxton "Miss Catalina 1992″(från Half A Native)
The Helio Sequence "Stoic Resemblance"(från kommande albumet The Helio Sequence)
Doldrums "Loops"(från kommande albumet The Air-Conditioned Nightmare)
The Tallest Man On Earth "Sagres"(singel)
The Lions "At A Loss"(från Soul Riot)
Echo Lake "Era"(från Era)
Diamond Rugs "Live And Shout It"(från Cosmetics)
Conny Nimmersjö "Din Framtid, Min Död"(från Tänk, Nyss Var Här Så Trevligt)
SeaWitches "Stars"(singel)
Tom Brosseau "Tell Me, Lord"(från Perfect Abandon)
Born Gold "Here We Are"(singel)
Brandi Carlile "I Belong To You"(från The Firewatcher's Daughter)
My Morning Jacket "Big Decisions"(från kommande albumet The Waterfall)
Elliot Moss "I Can't Swim"(singel)
Moon Duo "Zero"(från Shadow Of The Sun)
Theme Park "Something Good"(singel)
Fyfe "Solace"(från Control)
Palma Violets "Danger In The Club"(från kommande albumet Danger In The Club)
Girlpool "Chinatown"(singel)
The Dandy Warhols "Chauncey P vs All The Girls In London"(singel)
Digitalism "Second Chance"(singel)
Thief "Crazy"(singel)
The Elwins "So Down Low"(singel)
Shy Nature "Birthday Club"(från Birthday Club EP)
Silk Rhodes "Heart Of Grass"(singel)
Ryley Walker "Sweet Satisfaction"(från kommande albumet All Kinds Of You)
Diet Cig "Harvard"(från Over Easy)
All Tvvins "Thank You"(singel)