Albumrecension: The Pastels "Slow Summits", Betyg 3/5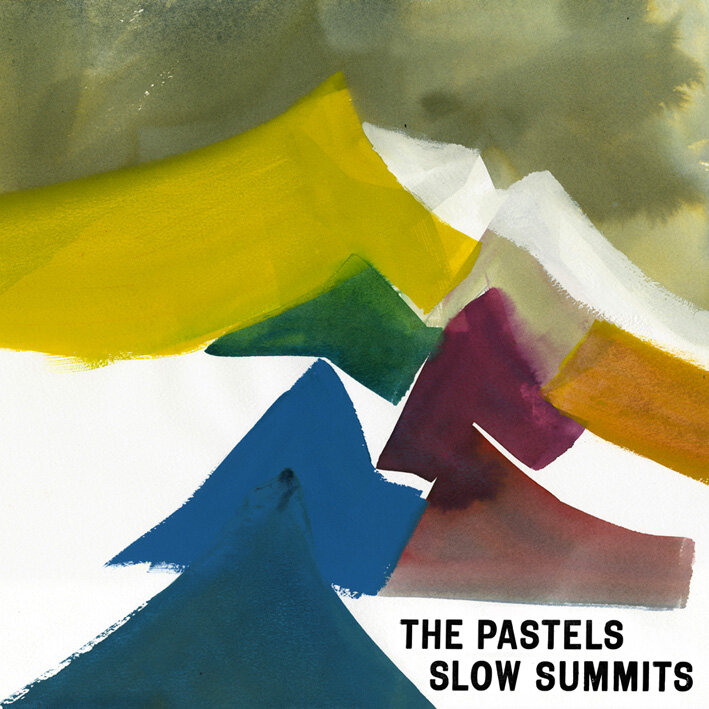 Den här recensionen kommer inledningsvis att framstå som en reseskildring, men lugn, det kommer en poäng.
2006 under en weekendresa till Glasgow hade jag och en vän två uppdrag medan våra respektive slet med sin shopping: det ena var att hitta någon bar som sände OS-finalen i ishockey, det andra var att hitta Monorail, skivaffären The Pastels sångare Stephen Pastel(eller McRobbie som han heter på riktigt) startade 2002 i besvikelsen över att de andra inte saluförde hans egna skivor. I en tid före smartphones blev det en odyssé kors och tvärs över hela centrala Glasgow. Vi frågade varenda popsnöre med upprullade svarta jeans, svarta glasögonbågar och slänglugg. En som jag kan svära på var Alex Kapranos skakade bara på huvudet och hastade vidare med en Dostojevskij-roman under armen. Jag skaffade till och med lånekort på biblioteket för att kunna googla fram adressen och en karta. Det hela utvecklades till rena Pepes Bodega-jakten.
Till slut nådde vi fram till McRobbies mytomspunna Monorail, undanskymd på ett litet torg en bit från huvudstråken. Det borde jag ha förstått. Vi fann förresten också en sportbar som sände hockeyn, om än utan ljud på en mini-TV vid vårt bord.
Första albumet på 16 långa år är inte skottarnas största stund, men ett värdigt supplement till deras backkatalog, som fluktuerat från The Velvet Underground-inspirerad C86-indie till dansrock med Madchester-komplex. Bandet på Slow Summits inkluderar förutom sångarna McRobbie och Katrina Mitchell även hennes syster Allison, Tom Crossley, John Hogarty samt Gerard Love som delar sin arbetstid mellan Teenage Fanclub, The Pastels och hans egna Lightships. På gästlistan återfinns Norman Blake, Eugene Kelly och To Rococo Rot.
När låtarna håller en jämn nivå är det detaljerna som utmärker sig: stråkarrangemangen i "Kicking Leaves", orgeln i "Wrong Light" eller flöjten i "Secret Music". Hur McRobbie i "Night Time Made Us" och "Summer Rain" sjunger som Edwyn Collins. Singeln "Check My Heart" knyter på ett bra sätt an till treackordsrefrängen i "I'm Alright With You" på debuten Up For A Bit With The Pastels från 1987.
Så till min poäng: om man har för avsikt att finna något man verkligen är nyfiken på, ska man inte avstå från det även om det ter sig enklare att låta bli. Om man väl har hört talas om ett band som heter The Pastels, ska man inte avstå från att leta upp det om det så räcker med ett knapptryck för att höra andra, "större" artisters största hits för femtielfte gången i en reklamradiokanal.
Har du inte tidigare ansträngt dig tillräckligt för att nå fram till det fantastiska lilla bandet från Glasgow bör du således göra det. Väl där väntar upprymmelsen över älskvärd indiepop av ädlaste valör. Ungefär i paritet med den eufori ett OS-guld i ishockey utsöndrar. Eller något så enkelt som ett Meat Puppets-album som stått och väntat på dig i den där mytomspunna skivaffären du letat efter en hel dag.
Bästa spår: "Kicking Leaves", "Summer Rain", "Wrong Light"