The Bucket List, Vecka 20, 2015
Det har tagit lite längre än vanligt mellan förra listan och denna. Det blir lätt så. Men istället för att hafsa ihop ett gäng låtar "bara därför att" tyckte jag det var bättre att hinna gå igenom alla nya släpp ordentligt. Och se, blev det inte en riktigt fin samling till slut?
Absorbera nu listan i lugn och ro, precis som den blev sammanställd. Det är så dom ska tas.
LYSSNA PÅ THE BUCKET LIST VIA TIDAL/WIMP
---
The Legends "Keep Him"(singel)
Ni som följer spellistorna här på Songs for Whoever vet att jag är ett fan av det mesta Johan Angergård företar sig. Club 8 hade en låt med på årsbästalistan 2013 och även Eternal Death har figurerat här. Nu har Angergård bestämt sig för att återuppta The Legends igen efter sex års uppehåll, och givetvis blir det precis så bra man kan förvänta sig: smekande elpianon, lätt tassande trummaskin och den försynta sångrösten med vårvarma vindpustar av reverb.
The Chemical Brothers feat. Q-Tip "Go"(från kommande albumet Born In The Echoes)
Vilken återkomst av Tom Rowlands och Ed Simons. "Go" har en del gemensamt med deras tidigare singel "Do It Again" från 2007, med tillägget att Q-Tip(A Tribe Called Quest) rappar. Dessutom kommer den med en enkel men intelligent video från Michel Gondry.
Morning Harvey "Smith Street Swap Meet"(singel)
Madchester är aldrig längre bort än en tripp till Brisbane.
Novella "Follow"(från Land)
Londonbaserade Novella, en kraut/shoegazekvintett bestående av fyra tjejer och en kille, har precis släppt debutalbumet och är något för fans av Stereolab.
Propeller "Wish I Had Her Picture"(singel)
Om du trodde att Teenage Fanclub var det närmaste man kunde komma himmelriket så tycker jag att du ska ta dig en funderare.
The Tallest Man On Earth "Little Nowhere Towns"(från Dark Bird Is Home)
Kristian Matsson vid pianot. Berättelser om sömniga småstäder flyger ur hans mun. Man hade velat vara i studion.
Christian Tiger School "Cinderella Rocafella"(från kommande albumet Chrome Tapes)
Sydafrikanska duon Luc Veermeer och Sebastian Zanasi gör ambient, trippig electronica med jazzinfluenser, och nya singeln går igenom flera stadier under sina åtta och en halv minuter. Debutalbum i sommar.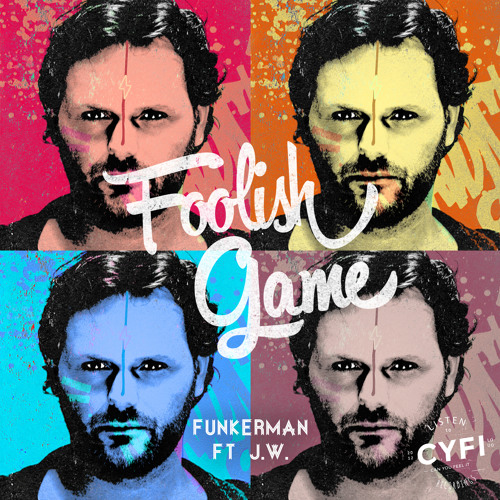 Funkerman feat. J.W. "Foolish Game"(singel)
Belgaren med det dansvänliga namnet låg bakom en av mina favoritdanslåtar, "Speed Up" från 2006. Ny favorit på ingång här.
Guantanamo Baywatch "Jungle Bride"(från Darling…It's Too Late)
Surfrockarna från Portland varvar sångnummer med instrumentala och får det att svänga ordentligt.
Moonbabies "Pink Heart Mother"(från Wizards on The Beach)
Den här bubblande electronicapopen från Malmöduons fjärde album får hela magen att ta glädjeskutt.
Nick Diamonds "The Sting"(från City Of Quartz)
Kanadensiske Nick Thorburn kanske är mest känd som en av medlemmarna i indiebandet Islands, men det är bara ett av alla hans olika plattformar. Som Nick Diamonds gör han spacepop med drag av Air och softrock.
RHODES "Close Your Eyes"(singel)
Powerballad, anno 2015.
Wallace "Vinyl Skip"(singel)
Vems är den här mjuka, hesa och förnämliga soulrösten undrar ni? Jo, hon heter Wallace Gollan, kommer från Nya Zeeland och presenterar sig med den här fina debutsingeln som genererat jämförelser med Erykah Badu och Jill Scott.
Amason "Yellow Moon"(singel)
Ny singel från svenska superdupergruppen som spelar på både Way Out West och Popaganda i augusti.
A Projection "Camera"(från Exit)
Även om influenserna från The Sisters Of Mercy, The Cure och Joy Division ligger väl synliga utanpå stockholmarnas album är låtarna deras egna. Tveklöst bland de bästa debutanterna i år.
Fraser A. Gorman "Shiny Gun"(från kommande albumet Slow Gum)
Kan man spela 70-talsdoftande amerikansk rock och komma från Australien? Ja, det kan man.
Make The Girl Dance feat. Gavin Turek "Woo Hoo"(från Extraball)
Från början var "Woo Hoo" planerad att vara instrumental, men när Parisduon träffade sångerskan Gavin Turek i Los Angeles och hon hörde den frågade hon om hon inte fick prova att sjunga till den. Det fick hon, och resultatet blev ett stycke french house magnifíque. Notera också den "Los Niños Del Parque"-inspirerade basgången.
Mike Viola "Doctor Feel Blue"(från Stairway To Paradise EP)
Ni som kan er pophistoria vet att Viola sjöng den Oscarsnominerade "That Thing You Do" ur Tom Hanks-filmen med samma namn, och senaste året har han producerat både Jenny Lewis The Voyager och Ryan Adams självbetitlade album. Adams har nu återgäldat tjänsten genom att producera Violas nya 4-spårs EP och gett ut den på egna bolaget Pax Am.
Turbo Fruits "Favorite Girl"(från No Control)
Nya albumet från Nashville-baserade garagerockarna innehåller den här biktande stänkaren och är delvis producerat av Patrick Carney från Black Keys.
Everything Everything "Regret"(från Get To Heaven)
För att vara helt ärlig hade jag svårt för deras dunderhit "Cough Cough" för några år sedan, men britternas senaste singel är faktiskt en riktig pärla.
The Hanging Stars "Golden Vanity"(singel)
Baklängesgitarrerna! The Byrds-sången!
SOAK "Blud"(från kommande albumet Before We Forgot How To Dream)
18-åriga Bridie Monds-Watson från nordirländska Derry har som inspiration till "Blud" tagit vad alla barn någon gång i olika grad har behövt uppleva: när man hör ens föräldrar bråka.
The Sweeps "The Last Dream"(singel)
Som gammalt Italo Disco-freak måste man bara älska när någon i dagens tider får för sig att kopiera soundet från mitten av 80-talet och utföra hantverket exakt lika charmigt som en gång Valerie Dore.
---
Följande låtar bör heller inte, under några omständigheter, missas:
Ben Khan "1000"(från 1000 EP)
Doldrums "We Awake"(från The Air Conditioned Nightmare)
Joywave feat. KOPPS "Tongues"(från How Do You Feel Now?)
My Morning Jacket "Tropics(Erase Traces)"(från The Waterfall)
Andreya Triana "Keep Running"(från Giants)
Hagaliden "Förunderligt Och Märkligt"(singel)
Jaakko Eino Kalevi "Deeper Shadows"(från kommande albumet Jaakko Eino Kalevi)
Superpoze "Ten Lakes"(från Opening)
Cayucas "Moony Eyed Walrus"(från kommande albumet Dancing At The Blue Lagoon)
Landshapes "Fire"(från Heyoon)
Mikal Cronin "iii) Control"(från MCIII)
Daniel Norgren "Lonely Girl"(från Alabursy)
STS x RJD2 "Hold On, Here It Go"(från STS x RJD2)
Surfer Blood "Islands"(från 1000 Palms)
Feivel "Where It Ends"(från Walls)
Ghostpoet feat. Nadine Shah "X Marks The Spot"(från Shedding Skin)
The Kite String Tangle x Dustin Tebbutt "Illuminate"(singel)
Little Boots "Better In The Morning"(från kommande albumet Working Girl)
Pale Blue "Distance To The Waves"(från The Past We Leave Behind)
The Stone Foxes "Eye For Love"(från kommande albumet Twelve Spells)
Thomas Truax "I Was A Teenage Post-Punk"(från Jetstream Sunset)
VÉRITÉ "Colors"(singel)
Black Atlass "Blonde"(från Jade)
Les Big Byrd "The Summer Ends Tonight"(från Liquid Sky EP)
Unknown Mortal Orchestra "Can't Keep Checking My Phone"(från kommande albumet Multi-Love)
The Weather Station "Like Sisters"(från Loyalty)
Giorgio Moroder feat. Mikky Ekko "Don't Let Go"(från kommande albumet Déjà Vu)
The Holydrug Couple "Light Or Night"(från Moonlust)
Metric "The Shade"(singel)
Summer Heart "The Cross"(från Thinkin Of U EP)
moodblanc "Over"(singel)
Ninsun Poli "Heartless"(från Great Leap Forward EP)
Westkust "Dishwasher"(från Last Forever)
Aurora "Running With The Wolves"(singel)
Flyying Colours "Running Late"(från ROYGBIV)
Könsförrädare "Blast Beats"(från kommande albumet End Of History)
Little Death Machine "December"(från Pale)
Rainy Milo "'Bout You"(från This Thing Of Ours)
San Cisco "Too Much Time Together"(från Gracetown)
The Van Jets "Utopia"(från Welcome To Strange Paradise)
Decaparecidos "Bracknell"(från kommande albumet Payola)
Dive In "Eighteen"(från kommande EP:n Eighteen)
Made In Heights "Slow Burn"(från kommande albumet Without My Enemy What Would I Do)
Kathryn Williams "Cuckoo"(från kommande albumet Hypoxia)
Peach Kelli Pop "Bat Wing"(från Peach Kelli Pop III)
Refused "Elektra"(från kommande albumet Freedom)
Ben Lee "The Body Of Love"(från Love Is The Great Rebellion)
Lucy Mason "All You Want"(från All You Want EP)
Metz "Spit You Out"(från II)
Milky Wimpshake "You Don't Look Twice"(från Encore, Un Effort!)
Blanck Mass "Double Cross"(från Dumb Flesh)
Faith Healer "Until The World Lets Me Go"(från Cosmic Troubles)
Hi-Alerts "I'm On The Run"(från Conjure Time)
Miguel "Coffee"(från kommande albumet Wildheart)
Silences "The Sea"(singel)
Giant Sand "House In Order"(från Heartbreak Pass)
A Grave With No Name "I Will Ride A Horse"(från Feathers Wet, Under The Moon)
Broken Water "Love And Poverty"(från Wrought)
Citizens! "European Girl"(från European Soul)
Empress Of "Water Water"(singel)
Mac McCaughan "Barely There"(från Non-Believers)
Work Drugs "My Billie Jean"(från kommande albumet Louisa)
Big Harp "It's A Shame"(singel)
Crocodiles "Crybaby Demon"(från Boys)
Joy Wellboy "I'm Waiting For You"(från kommande albumet Wedding)
La Luz "You Disappear"(från kommande albumet Weirdo Shrine)
Mew "The Night Believer"(från +-)
Tame Impala "Disciples"(från kommande albumet Currents)
Vinyl Williams "World Soul"(från kommande albumet Into)
Turboweekend "Disco To Disco"(från Share My Thunder)
Van Hunt "Old Hat"(från The Fun Rises, The Fun Sets)
Frankie & The Heartstrings "Save It For Tonight"(från kommande albumet Decency)
Hælos "Earth Not Above"(singel)
Michael Rault "Lost Something"(från Living Daylight)
Turnover "Diazepam"(från Peripheral Vision)
For BDK "My Tears"(singel)
Swim Deep "One Great Song And I Can Change The World"(singel)
Eternal Summers "Gold And Stone"(från kommande albumet Gold And Stone)
Future Islands "The Chase"(singel)
The Helio Sequence "Upward Mobility"(från The Helio Sequence)
Crystal Castles "Frail"(singel)
Hiatus Kaiyote "Swamp Thing"(från Choose Your Weapon)
Twinsmith "Alligator Years"(från Alligator Years)
Chlöe Howl "Bad Dream"(singel)
Mates Of State "Staring Contest"(från You're Going To Make It EP)
Active Child "Never Far Away"(från kommande albumet Mercy)
Mideau "Feet To The Sun"(från Mideau)
San Fermin "Reckoning"(från Jackrabbit)
Jackson Scott "Save The World"(från Sunshine Redux)